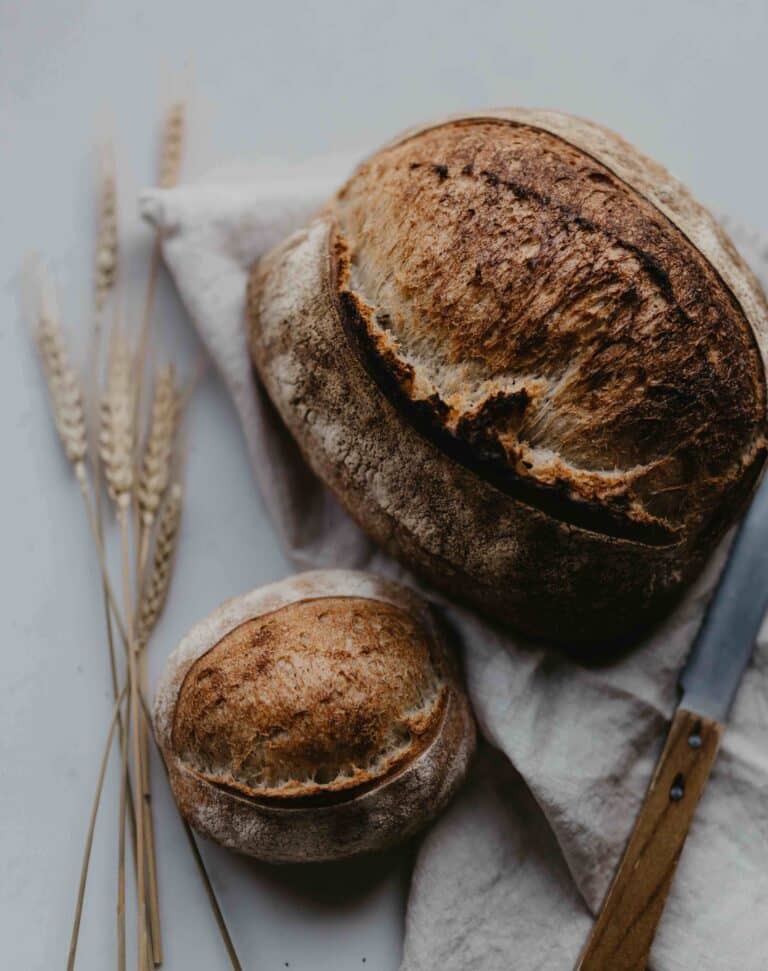 Ah, Sourdough September, quite possibly our favourite month, other than Christmas anyway! Sourdough is at the heart of Gilda; it's the lifeblood of the bakery. Therefore, this month, we are really shouting about our bread and processes!
This Sourdough September, we will be introducing our breads. Our Taste of Kent award-winning Country Sourdough is made from organic white flour, 15% wholemeal flour, water, and salt, it's the lifeblood of our bakery and is used as the base for many of our breads. The dough is fermented for 36 hours, harnessing the power of wild yeast; the process creates a mellow, mildly sour flavour. It has a rugged crust and a light, airy crumb.
Available in a classic 'country' shape, a country-long shape, or baked in a tin for perfect square slices for your toaster.
Olive sourdough: Our olive sourdough is a mix of Greek kalamata and green olives, a sprinkle of herbs and our classic sourdough base. Sliced and dipped in olive oil, this Mediterranean inspired loaf is perfect alongside Italian dishes.
Seeded sourdough: A round loaf coated in a mix of roasted pumpkin, sunflower, poppy, and sesame seeds, adding a bold nutty flavour and pleasant crunch. Excellent with a wintery bowl of soup or a summery salad.
Malted sourdough: A darker, richer loaf made with a blend of malted grains and wheat flour. Coated with toasted oats and baked in a tin, the malted sourdough gets its distinct sourdough flavour from our much-loved wild yeast starter and a two-day fermentation process. The baker's choice for marmalade on toast.
Rye: This slow-fermented loaf is made with 100% rye and has a symphony of flavours; fennel seeds, black treacle and Guinness. Sticky and moorish, the flavour only improves over a few days. Enjoy thinly sliced, with cream cheese and salmon.
Fruit sourdough: A sweet loaf bursting with apricots, figs, dates, sultanas, currents, and raisins, all soaked in red wine and infused with cinnamon, star anise, cloves, and ginger. Perfect toasted, this is a great addition to any breakfast table.
Camembert and spring onion sourdough: The ultimate addition to your cheeseboard, this sourdough loaf is filled with smooth, creamy camembert and finely sliced spring onions. At Gilda, we proudly support local businesses and use Chaucer Camembert produced by Cheesemakers of Canterbury just down the road.
Ciabatta: Ciabatta is an Italian bread style that takes its name from the Italian word for 'slipper.' These slipper-shaped loaves have a thin, crackly crust and a very open structure. Our ciabatta is made with a rye sourdough levain, giving excellent flavour, texture, and loads of nutritious goodness. Split one open and stuff it full of your favourite fillings for a fantastic deli-style sandwich.
Cheddar & chorizo sourdough: A loaf not for the faint of heart! A weekend special here at Gilda, this sourdough blends spicy, hot chorizo sausage and a crumbly, mature cheddar. An explosion of flavour, best experienced on its own or as a very indulgent side to a light supper.
Did you know Sourdough is also better because your gut is packed with nutrients, healthy carbs, fibre and iron?
If you haven't already explored our Sourdoughs, you really must – they're all incredibly unique and delicious in their own right. Next time you're in, try something different!
Pre – order our breads here – https://gildabakery.com/product-category/bread/
The Real Bread Campaign
This fantastic campaign highlights the importance of real bread, educating consumers about the processes and connecting them with honest, amazing bakers – they champion real bread and the bakers behind it!
It's essential to buy authentic, honest bread, understand the process and ingredients used, read about the nutritional benefits, and support local bakers where you can, not just us – real bread is the best.
Read more here – https://www.sustainweb.org/realbread/